The Needle's Eye... Trends and Technologies Driving the Sewn Products Industry
Out of the Past (1845-1945)
On the 1st anniversary of my re-launch of
The NEEDLE'S EYE
, I think it's appropriate to recognize the one hundred years between 1845 and 1945 after Elias Howe, Jr. invented the first sewing machine.
The story is sourced from the June 1945 issue of
The (original) NEEDLE'S EYE
.
Howe, a Boston mechanic, completed and put into practical use a crude shuttle stitch machine that was destined to revolutionize the art of sewing and effect tremendous changes in the pattern of American life at that time
Prior to the year 1845, all garments were sewn by hand, requiring long hours of tedious work. By 1945, commercial sewing represented one of America's largest industries, and its products were more constantly encountered than any other items of people's daily existence.
This issue of
The (new) NEEDLE'S EYE
is a salute to Howe reflecting on the 100th Anniversary of his invention and the evolution of the sewing industry itself. The following story in the "Out of the Past" feature is presented as a historical sketch of the industry, the development of Howe's first machine, and subsequent events and progress of the equipment and methods leading up to June 1945.
Dave Gardner, Editor/Publisher
To the sewing industry, and to each of its workers all over the world who contribute so greatly to our welfare, we take this occasion to pay a just tribute.
100 Years of Machine Sewing
It is timely upon this hundredth anniversary of machine sewing (1845-1945) to take public recognition of an industry that has had far too little acclaim for its achievements.
How many people realize that the needle trades once comprised America's fourth-largest industry? The public imagination is stirred by steel and automobiles and chemistry yet accepts unquestionably the thousands upon thousands of necessities and luxuries so profusely supplied by the sewing factories.
The history of industrial sewing is an absorbing chapter in the story of the struggles of technological and human progress. It is a tale epitomized by an incident in Paris fourteen years before Elias Howe's invention.
Barthelemy Thimonnier had fashioned eighty sewing machines of wood, which were being used to sew army clothing. These machines were destroyed by an infuriated mob, fearfully visioning in these mechanical contrivances the specter of unemployment for the seamsters who worked by hand. How foolish were their fears! Today in 1945, thousands of persons earn their livelihood in our modern clothing factories, and thousands more are employed in the manufacture and distribution of the sewing equipment itself.
Check out Zünd digital cutting systems online at
www.zund.com
, or make plans to experience them in person again at Texprocess in Frankfurt, Germany (Hall 8, Stand C57). And don't miss the video below!
Early Sewing Machine Developments
Long before Elias Howe, Jr. perfected the first practical sewing machine, others had invented machines for stitching fabrics or leather.
Four fundamental kinds of stitching were performed on these earlier inventions: (1) the stitch similar to that done by hand, made on a "Short Thread" Machine, (2) the Single Thread Chain Stitch, Type 101, (3) the Lock Stitch or Shuttle Stitch, Type 301, and (4) the Two-Thread Chain Stitch, Type 401.
Read More
1845 – Ushering in the Industrial Revolution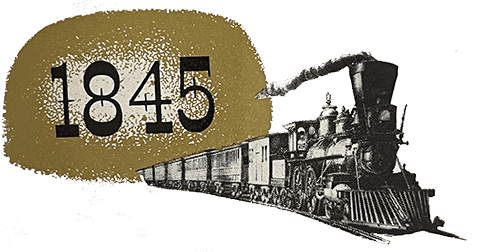 The year 1845 ushered in an era of great scientific development in America, for it was the mechanical inventions of that period that set the pace for the tremendous industrial progress to follow. Cyrus McCormick, Samuel F. B. Morse, and Charles Goodyear had invented and were developing new processes in the fields of agriculture, communication, and industry, destined to revolutionize old methods of production and distribution. The textile trade was ripe for the introduction of a mechanical device to replace tedious hand sewing with needles and thread.
Read More
C and C Enterprise
has teamed up with JACK, one of the world's finest industrial sewing machine manufacturers, to form
Jack of the Americas
. Jack of the Americas distributes JACK machines throughout North America, Mexico, Central America, and the Caribbean Basin.
When you buy from Jack of The Americas, we don't just ship you a box! We help you get set up and answer any questions you may have! With over 100 years of combined experience in the industrial sewn products industry, we are proud to say that we are one of the world's leading industrial sewing products authorities and are here to serve you!
Not sure if Jack is right for you? Click on the button below for a short video showing off some of our machines. Watch it and see what Jack can do for you!
Development of Production Methods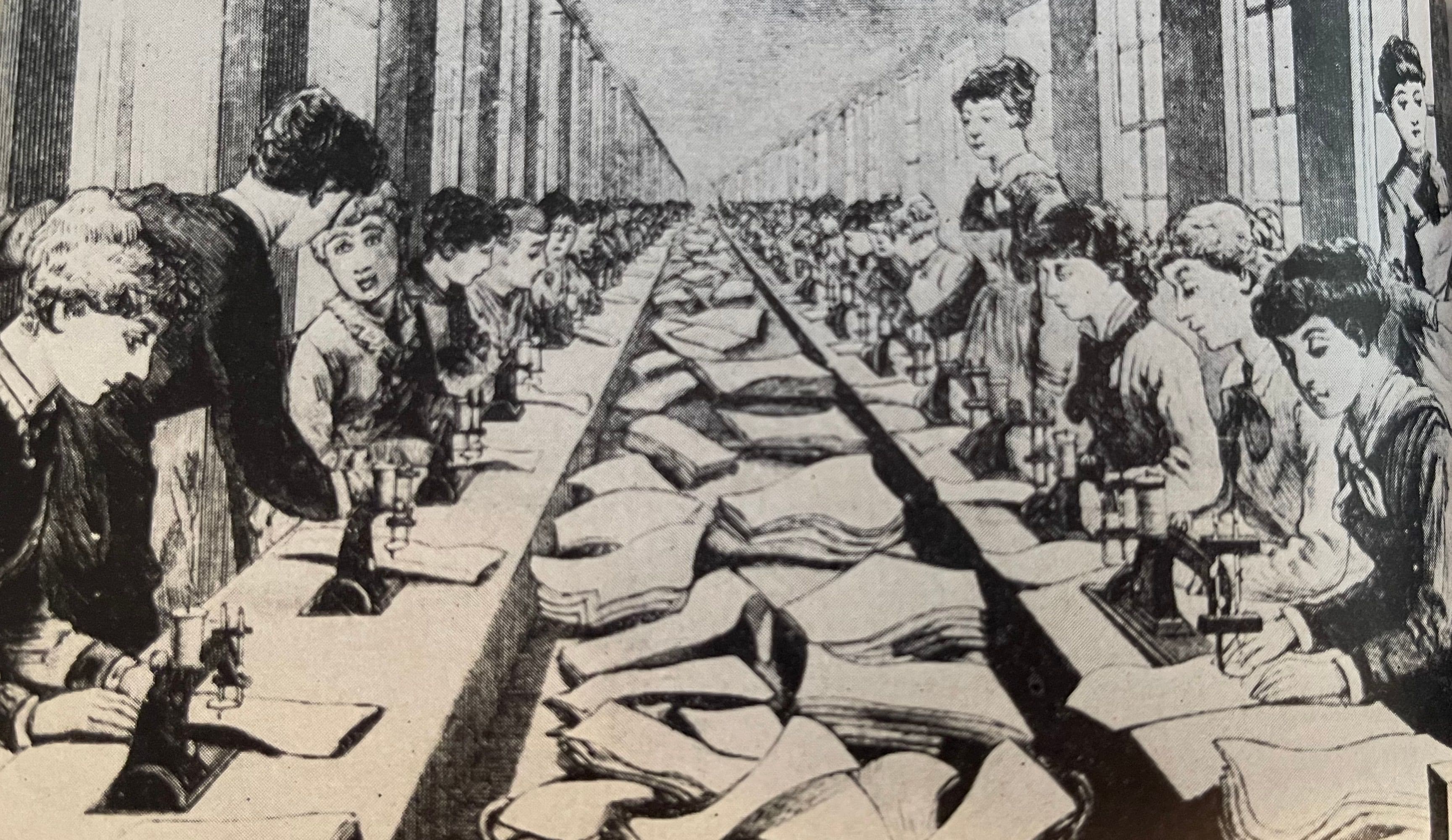 With the gradual development of the sewing machine, radical changes were brought about in the textile industry. In the old days, workers came to the homes of their employers where the "parlor" or some other spare room had been converted into a sewing room. If women willing to do some sewing could not leave their families, the work was sent to their homes. Even after the introduction of the sewing machine, it was necessary to send work out because there were not sufficient machines in factories to meet the demands for clothing and household furnishings. Each seamstress, whether working by hand or by machine, performed all operations and completed the sewn article.
Read More
Mechanical Development of the Sewing Machine
It is interesting to note the mechanical progress of the sewing machine from the time of Howe's invention.
Although it actually sewed and represented a forward step in the progress of civilization, Howe's ponderous first machine was operated by a hand crank and probably made all of 200 stitches per minute. It had a curved eye-pointed needle on the end of a lever. The shuttle carrying the lower, or bobbin thread through the needle thread loop was driven in its race by two strikers carried on the ends of vibrating arms, operated by two cams. The cloth was suspended by pins from the edge of a thin, steel rib called a baster plate, which had holes engaged by teeth of a small, intermittingly moving pinion. By this clumsy method, the material was fed through the machine.
Read More
The Pathfinder M-Series® range of automated cutting machines is known for precision, very high productivity, reliability, and lowest power consumption. All 16 models are easily configured to suit most cutting applications, and, thanks to clever design, Pathfinder cutters require very little maintenance to continually deliver exceptional cut quality over a long working life.
The advanced scientific techniques employed in the construction of industrial sewing machines represented a tremendous step forward from the crude tools used in the development of early sewing equipment between 1845 and 1945. These machines with their reciprocating, rotating, and oscillating motions operating at terrifically high speeds embodied one of the most unique mechanisms·in common use and far surpassed many so-called precision mechanical devices.
Read More
Texprocess / Techtextil (Atlanta)
By Messe Frankfurt USA
Texprocess Americas and Techtextil North America took place May 17-19, 2022 in Atlanta, Georgia. Back together for the first time since 2018, the anticipated reunion of these industry-leading events assembled the entire textile supply chain for three days of networking, education, and business development. From the show's opening on day one, the excitement to meet, in person, with industry peers and learn about the latest innovations could be felt throughout the Georgia World Congress Center.
Read More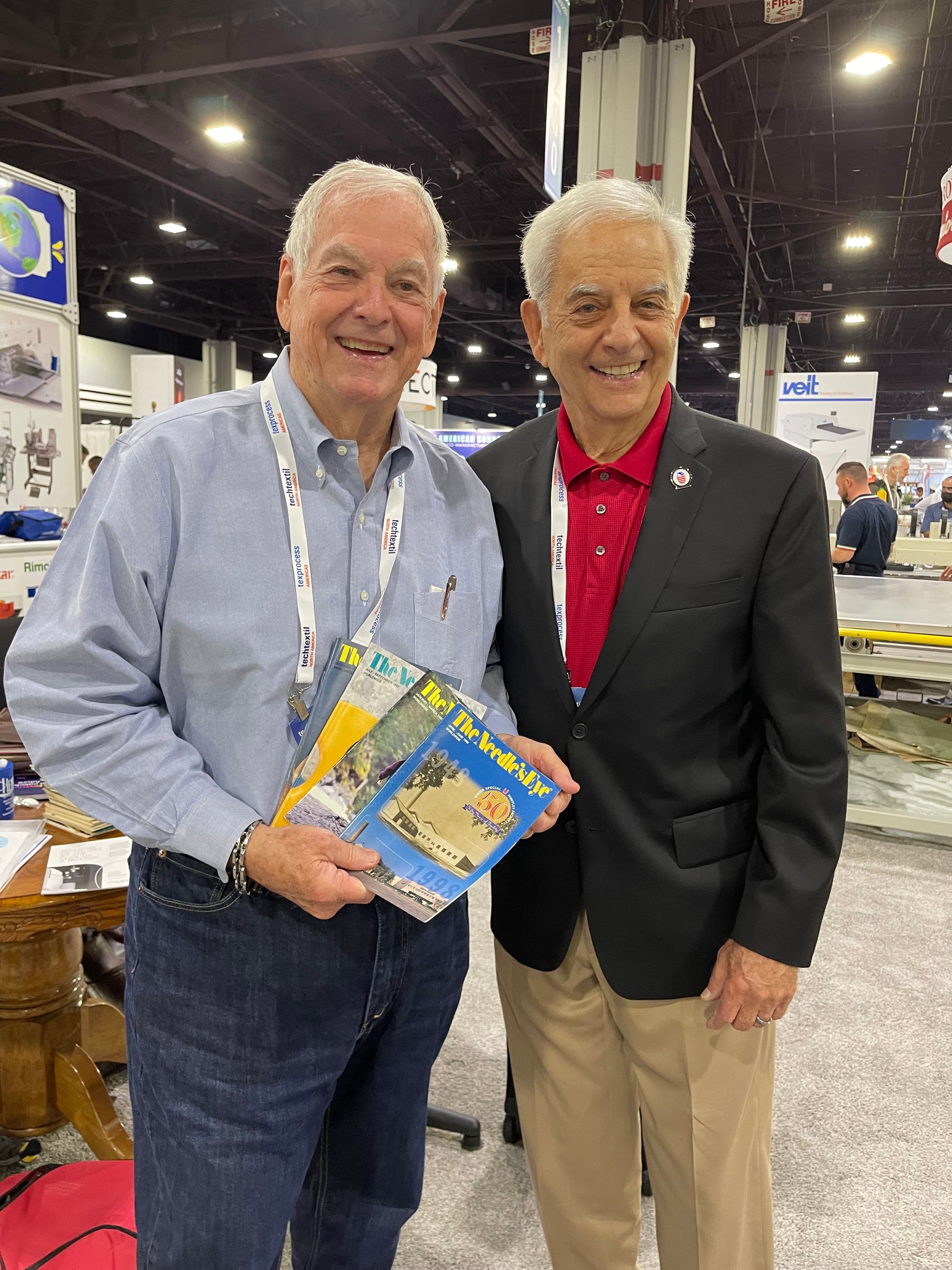 Dave Gardner (left), Editor/Publisher of
The (new) NEEDLE'S EYE
, proudly accepts previously-undiscovered back issues of
The (original) NEEDLE'S EYE
from Allan Estroff, General Manager of NAFECO, and General Sales Manager North America Fire Equipment Company in Norcross, Georgia. Alan is a long-time industry veteran and subscriber.
•
linkedin.com/in/allan-estroff-b2917a9
•
linkedin.com/in/davegardner1
Dave Gardner and Robert Collier (right) is a well-known sewing machine expert and sales ambassador of Collier Equipment, Inc. in Lexington, Alabama. He is the moderator of the "
Industrial Sewing Machine Mechanics
" Facebook group. Robert is a big-time advocate of
the NEEDLE'S EYE
.
•
linkedin.com/in/robert-collier-ba130626
•
www.facebook.com/groups/industrialsewingmachinemechanics
Texprocess / Techtextil (Frankfurt)
From 21 to 24 June 2022, the time has come: the world of technical textiles and nonwovens as well as the processing of textile and flexible materials will finally meet again at Texprocess and Techtextil. More than 1,000 registered international exhibitors promise a wide range of new developments in all product and application areas. After a three-year break, exhibitors and visitors are looking forward to personal interaction.
Read More
It's Time to Close a Gaping Import Loophole to Improve US Competitiveness Against China
By Kim Glas, President/CEO of the National Council of Textile Organizations
As Congress finalizes legislation to improve the nation's competitiveness, it should address a glaring loophole that, left open, would undermine the stated purpose of the bill. Left untouched, certain importers will continue to exploit a legal provision of U.S. trade law that rewards China, letting millions of products into the U.S. market duty-free that otherwise would be subject to tariffs, penalty tariffs, taxes, and inspection.
Read More
Schmetz
...your manufacturer for household and industrial sewing machine needles. The product and service spectrum of SCHMETZ covers a complete range for the individual requirements of over 47 sectors in the sewing and textile processing industry, as well as for workshops and the hobby sector. Placing the highest demands on the materials used, the processing techniques and product quality, combined with the goal of developing tailored solutions for every application, are both the focus and the mission statement of the company.
Aptean Apparel Manufacturing Solution Receives Software Innovation Award
Aptean
, a global provider of mission-critical enterprise software solutions, announced that its industry-specific software for apparel manufacturers has been recognized with an Innovation Award from the Network Association of Uniform Manufacturers and Distributors (NAUMD). Aptean's Shop Floor Control solution from Exenta was honored with NAUMD's 2022 Software Innovation Award. The NAUMD Innovation Awards recognize the tradition of innovation excellence in the global uniform manufacturing and distribution industry.
Read More
Sri Lanka Defaults on Debt, IMF Bailout Likely
Sri Lanka has defaulted on its debt for the first time in its history amid its worst financial crisis in more than 70 years. The country has been hit hard by the pandemic, as well as rising energy prices. A shortage of foreign currency and soaring inflation – which stands at 30-40 percent – have led to a severe shortage of medicines, fuel, and other essentials.
Read More
Embedding Fundamental 3D Transformation into Corporate Strategies Dialogue with Michael Ernst (Part 3 - Conclusion)
By Dipl.-Ing. Yvonne Heinen-Foudeh, Senior International Correspondent
"Success is the result of small daily achievements." This insight also applies to the highest degree for the transformation to a results-oriented, process-integrated 3D product development of apparel. We learn from the luminary Professor Dr.-Ing. Dipl.-Ing. Michael Ernst. Crux and key points for the still hesitant breakthrough of 3D technology he has brought to the point in talks with
The Needle's Eye
— open and blunt.
Read More
Check out Part1
•
Check out Part 2
Technology Trends That are Reshaping the Fashion Industry
When it comes to adopting new trends and technologies, the fashion industry remains a frontrunner. As diverse industries deployed digital to keep business continuity plans going in the face of severe disruptions in the past couple of years, many fashion brands already had a digital presence while those that didn't quickly build their online presence. Today, while the criticality of having a digital presence is acknowledged, particularly for D2C (direct to consumer) initiatives, digital-native brands also realize the significance of an offline presence in promoting greater consumer satisfaction. As a result, both offline and online fashion brands are adopting an omnichannel approach to offer customers a better value proposition.
Read More
China's Tech Giants Test the Waters in Fashion Metaverse Despite Slim Chance of Profits
Social e-commerce app Xiaohongshu, known as the Instagram of China, is selling virtual fashion items in the form of non-fungible tokens. In March, Shanghai's Dazzle Fashion joined Western peers including Dolce & Gabbana and Diesel to participate in Metaverse Fashion Week on Decentraland. China's Big Tech companies from ByteDance to Tencent Holdings are testing the waters in the fashion metaverse even though prospects of monetization and profitability are slim in the foreseeable future.
Read More
The Death of Fast Fashion Can't Come Soon Enough
By Shannon Scott / Co-Founder/President of
COMUNITYmade
The recent controversy over "fast fashion" has helped expose systemic flaws in the way apparel has been produced and consumed for the last two decades. Even before the pandemic, fashion manufacturers were being forced to respond and make uncomfortable adjustments. The conversation has since shifted to a breakdown of the industry's supply chain and, of course, to inflation. In other words, the controversy has not gone away, although the spotlight is now on the factories and manufacturers rather than retailers. This is not a bad thing.
Read More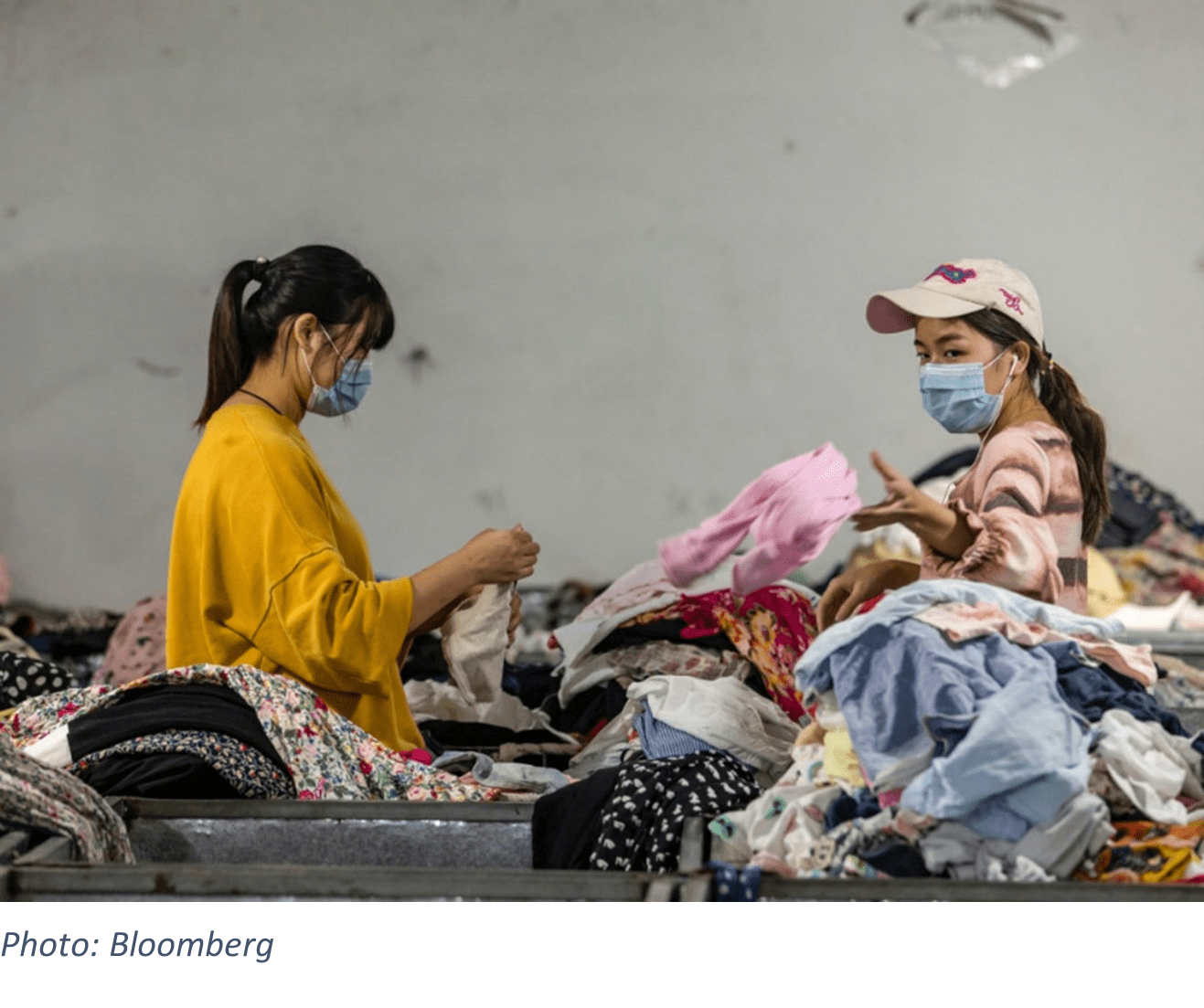 STTI Gains Two New Members – 11 Countries on Board
By Dipl.-Ing. Yvonne Heinen-Foudeh, Senior International Correspondent
Achieving agreements on practical steps to improve purchasing practices between globally acting operating organizations and their members is STTI's declared goal. After its very first bi-annual in-person meeting held in March in Istanbul, the Sustainable Terms of Trade Initiative (STTI) in the interim started talks with three major organizations representing brands and retailers that have commercial compliance high on their agendas. These are the
SAC
,
ACT
, and the
Common Framework for Responsible Purchasing Practices
(CFfRPP).
Read More
Customer Centered Solutions Provider!
IFAI Selects Advanced Textiles Association as New Name
The Industrial Fabrics Association International (IFAI) became the Advanced Textiles Association (ATA) effective June 1. The name change was approved in April with 85.6 percent of association members casting their votes to do so. Association bylaws require the approval of two-thirds of those returning ballots. The results were audited by Clifton Larson Allen.
Read More
AAPN Confers Newly Named Walter T. Wilhelm Industry Achievement Award Upon Ed Gribbin and Dr. Lynne Sprugel
In 2017, the Americas Apparel Producers' Network (AAPN) created the AAPN Industry Achievement Award. At this year's 2022 AAPN pro:Americas Annual Conference, held recently in Miami, the organization renamed the award the AAPN Walter T. Wilhelm Industry Achievement Award.
On Monday, May 2, AAPN presented the achievement award to
Ed Gribbin
. He was president of AAPN when COVID-19 hit. As a consultant, Gribbin's work came to a dead stop and when many AAPN members began making masks and gowns, Gribbin took charge.
Read More
At
Grindle Marketing Communications
, we believe the right marketing strategy helps you win. Developing it comes from investing time to understand your customer's needs, your competitive landscape, and your brand's strengths, weaknesses, and goals.
For 30 years the founder of Grindle Marketing Communications has helped start-ups, mid-market, and fortune 500 companies to conduct research, build strategies, and tactical plans which build trust and differentiate brands from their competition leading to growth.​